More than just for one game.
Multi-functional.
SKILLTheBall is the official game ball for FooBaSKILL. This crossover ball is distinguished by its hybrid composition and its multiple use. Unique in its kind, an international patent was filed (WO2017145085). This ball consists of a combination of 8 basketball panels (rough texture) and 12 soccer panels (smooth texture).
The materials, weight and size were rigorously chosen to allow optimal use in both sports and maximize the quality of the rebound and shooting. Its turquoise colour symbolizes the sky in reference to the basketball discipline, which is more aerial and focuses on the upper body. The purple colour recalls the earth and soccers's work on the lower body.
Thanks to the high quality of the materials, SKILLTheBall can be used both indoors and outdoors.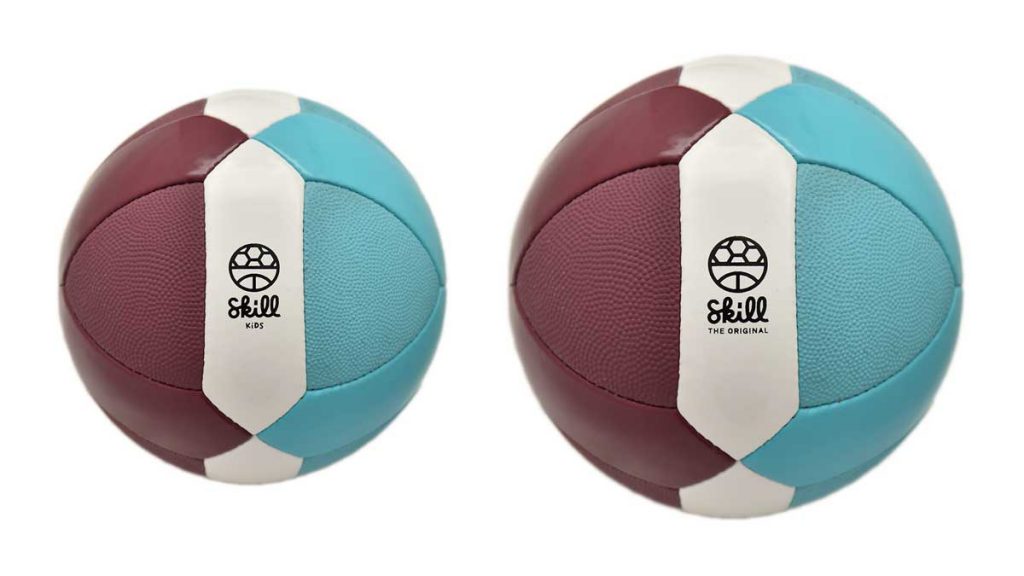 Size 4 KIDS for children 6-11 years
Size 5 The Orginal 12 years up to adults
International patent filed
In order to improve the game FooBaSKILL, we have developed a multi-purpose goal adapted to the dynamics of this game. After testing several prototypes, the chosen goal is composed of a floating net allowing scoring from both sides. An international patent has also been filed on this novelty. The SKILLGoal is an invention that arouses great interest among various Swiss football academies. In addition to its use for FooBaSKILL, the SKILLGoal is easy to carry (light-weight) and can lend itself to a more personalized and private use for example in the park or in the garden.
International filed patent: WO2018134728.
Ability to score from both directions
Quick mounting on a vaulting box
Use in a gymnasium (anti-slip under the feet) and outdoors
Easy to store (removable feet)
5 years warranty on the aluminium structure
International patent filed